For Patients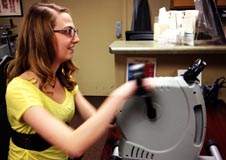 Our treatment protocols for rehabilitation are proven to be safe and effective.
The patient spends approximately one hour each visit, with one-on-one care by a physical therapist and certified exercise physiologist to ensure the rehabilitation protocols are being performed properly.
Treatment will be provided two to three times per week, with evaluations performed every two to four weeks.
At that time, related physical findings and subjective, functional, and objective information will determine the need for further care. Our protocols usually last from two to eight weeks. Once the patient has completed the program, we encourage an on-going independent exercise program to maintain their condition and promote continued improvement.